As a Professional Learning Trainer, and Instructional Technology Director, I am always looking for great charging and storage solutions for classroom technology.  While at #ISTE17, I visited several vendor booths and found some great products.  If you are looking for classroom carts for mobile learning, take a look at these shown below in no particular order of preference 🙂
This cart from Ergotron is a great cart for those looking for a basic solution.  
The smaller design, and flat top for teaching, presenting, etc… is great for the mobile classroom.  Since it is smaller, it is easier to handle as you are transporting it down the hall between classes.   The Yes cart holds 36 Chromebooks (up to 14″) or iPads.  Since charging cables are easy to install, you can mix and match devices, and it comes in a little cheaper than some solutions, at $990.00.
Lock N Charge has a great solution for STEAM teachers who  use Sphero Robots for Coding.
 I hadn't seen anything like this before, so it sparked my interest (pun intended).  This case can hold up to 6 Sphero balls, charging cables and supplies.  Great for storage and charging, but also for checkout and transporting your equipment. I'm not sure of the price on this one, as it is brand new, but you can request quotes from Lock N Charge.
Copernicus Education is a company I was not familiar with in the past, but they had two solutions (see the second one below) that caught my eye at ISTE.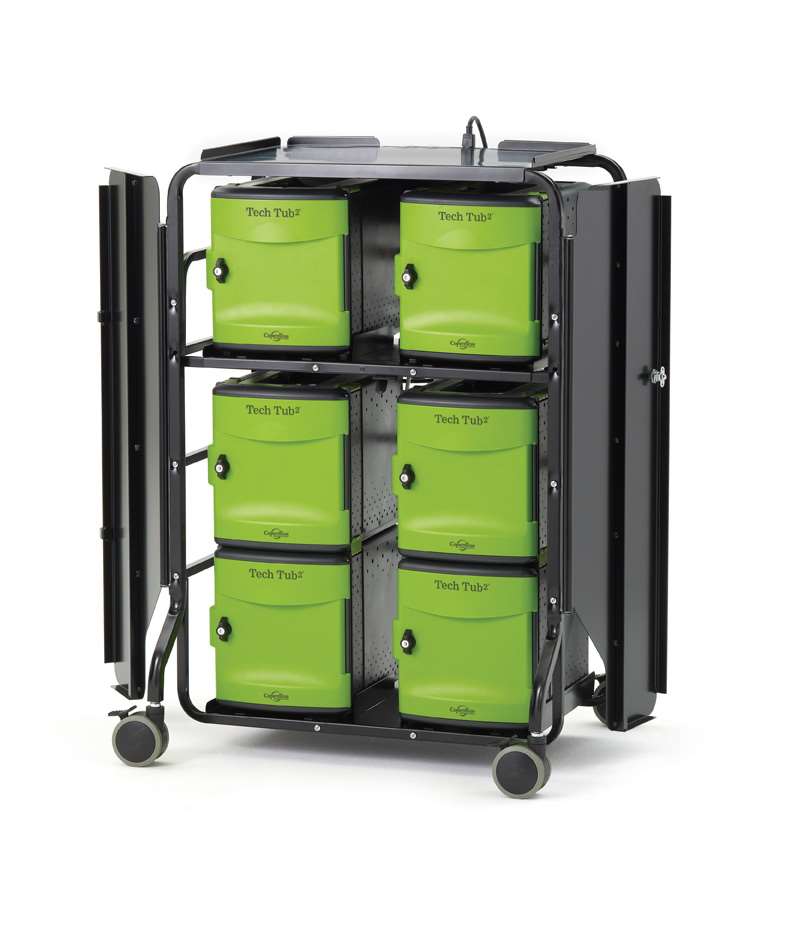 The Tech Tub 2 Charging and Storage Cart allows teachers to store and charge up to 32 tablets, Chromebooks, or Laptops (see compatibility chart).   But best of all, the cart is divided up into 6 Tech Tubs that can be taken out of the cart, allowing you to transport smaller numbers of devices to and from classes / events if needed.  A great solution if you are using the cart for checkout purposes and a teacher only needs a handful of devices, as opposed to a full cart.  Priced on their website at $2166.00.
This solution, also from Copernicus, is great for any classroom that is limited on space.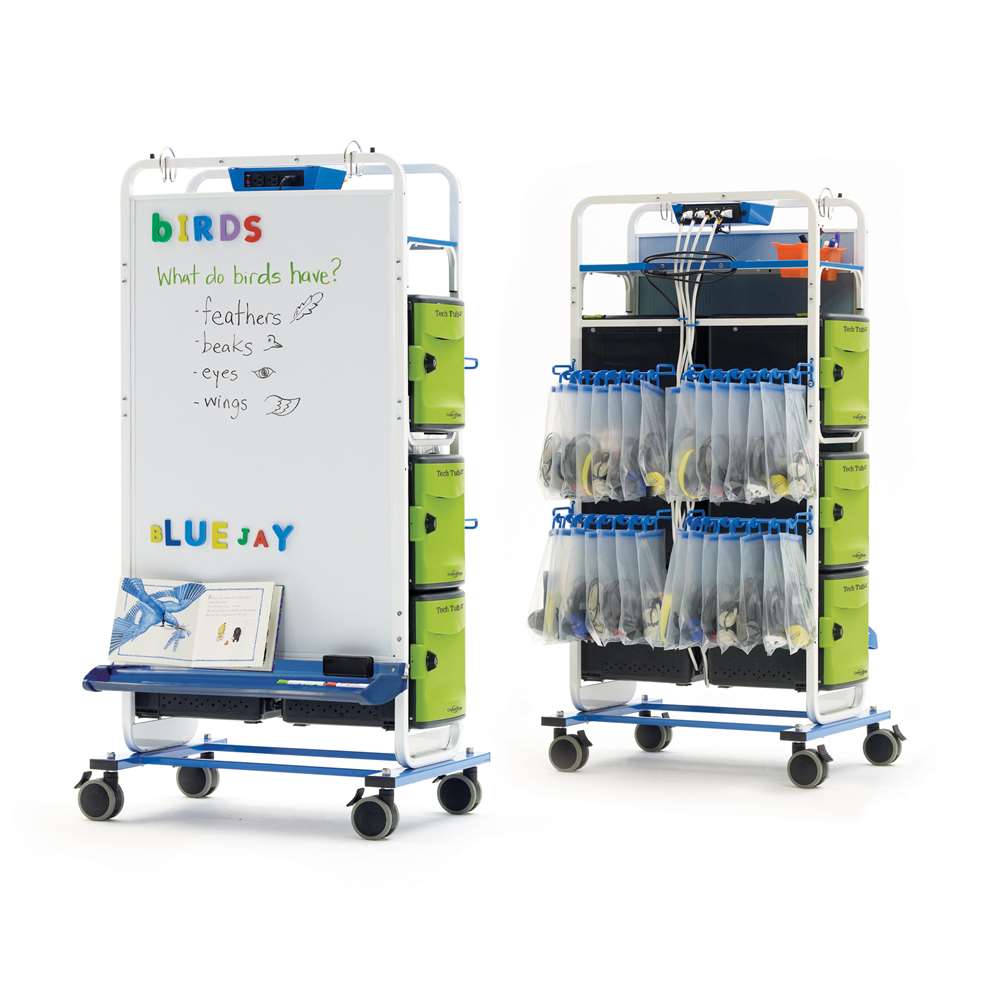 It provides storage for up to 32 devices, which is divided up into Tech Tubs as shown above, but also doubles as a teaching easel.  The easel comes with a whiteboard and marker tray, so teachers can use the surface to teach in small groups, such as centers.  The opposite side of the cart has hooks that can be used for storing headphones.  Great solution priced at $2330.00.
The Anywhere Cart Slim is a great solution, because of its slim design, but also because of its smart charging feature.  
This cart will hold up to 36 devices, and automatically senses when devices need charging.  If the power goes out, it restarts as needed.  Rather than consumer large amounts of electricity all at once to charge all devices, it cycles between charging batches of devices as needed.  Priced at $1600.00.
Charging Lockers
While there were many new products out there this year, one of the best solutions I saw, and one that will definitely be more popular as schools move to a 1:1 mobile computing solution, is the charging locker.  While students will be expected to bring their device every day, charged and ready to go, some may still need to top off their device during the day.  That's where charging lockers come in handy.  Take a look at these, available from a variety of vendors…
There are tons of solutions out there, so take a look around and find the one that suits your needs and budget best.  If you reference the sites of each of these vendors, you'll find that they have many other carts, configurations, and solutions, so shop around.